This week's Mashup was suggested by Purple Claw!
Now, I know Gravity Falls has a big place in many Poptropicans' hearts… That's why I wanted to take all that fondness and put it into one post! There are a lot of costumes for this one, along with some Gravity Falls art made by community members. Let's get to it!
---
Fanart
Made by mrmeepjeep, Poptropica community members have been drawn as Gravity Falls characters, known as #PoptropicaFalls:
To the left, you can see a drawing of Small Fire, and to the right, a drawing of Ylimegirl in Gravity Falls form! Pretty cool! Known as Abel Hackney on YouTube, they also made a video of a speed drawing of Tall Cactus for #PoptropicaFalls:
Now, these are just little bonuses, but some Gravity Falls art alone has been made by some Poptropica community members:
Gravity Falls Season 1 cover art was made by TheKeystone (HPuterpop), and an artwork by SydVC (Spotted Dragon) was made of an important scene with Mabel.
---
Costumes
The first set of costumes we have was made by the Poptropica Help Blog and includes Soos, Dipper, Mabel, Grunkle Stan, and Wendy; as they put it, the Gravity Falls Gang. You can find all of them here with instructions!
Mabel and Dipper have been made by Spotted Dragon herself, and you can find them on this page on Adventure Time Pop.
Last but not least, let's not forget YouTube, which has a video of a very accurate Dipper by Angry Crazii:
---
Bits & Pieces
Like Cryptids Island, Gravity Falls has a lot of creatures and mysteries that are often considered myths (but are they?). One that Poptropica and Gravity Falls share is Bigfoot. Yes, this big furball: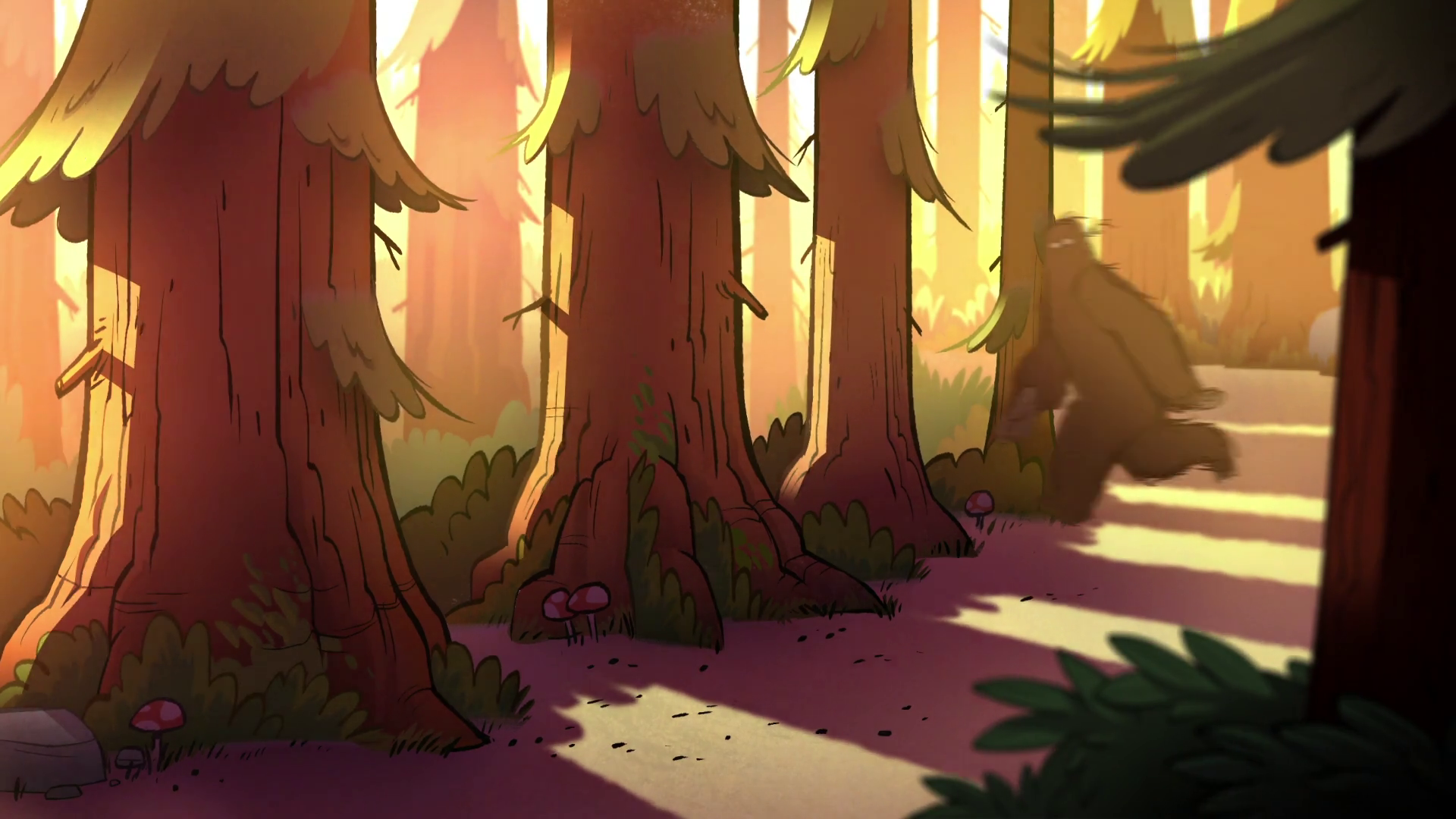 You can see it in one singular frame in the theme song, and it has had a couple references in the show. Of course, if you've played Cryptids Island, you know it has mich bigger part; in fact, you end up saving it! You can visit the Gravity Falls page on Bigfoot here.
While Cryptids includes creatures like the Jersey Devil, the Yeti, and Loch Ness, Gravity Falls includes fairies (Twisted Thicket), ghosts (Ghost Story), and Eye-Bats, among more. In Gravity Falls, there are even Cryptograms. 😉
I decided the title for the third section of Mashup Mondays, which has varied, should be "Bits & Pieces." It can feature relationships between Poptropica and a fandom, references, or just some extra creations! That's all for today, so see you next Monday!
-Silver Wolf out